Return to AFC Home Page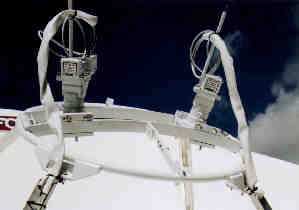 OCALA, FLORIDA, September 11 /Internet/ -- Antennas for Communications (AFC) announced that it has contracted with Fox Data, a unit of Fox Broadcasting Co., to provide multi-satellite feed earth station equipment for Fox affiliates in the United States. Under the terms of the agreement, AFC will manufacture and upgrade existing Fox affiliate antennas with advanced multi-satellite antenna feeds systems that have the unique capability of increasing antenna performance. Completion of the project is expected by the start of 2001.
"Modern digital compression technology requires superb antenna performance for quality television distribution" said Dr. Ronald S. Posner, AFC's CEO. "Fox continues to prepare its affiliates' satellite reception equipment for the broadcasting demands of the 21st century."
This multi-satellite feed project is a continuation of AFC's earlier contract to provide satellite earth station equipment for Fox affiliates in the United States. In support of the Fox contract, Fox intends to subcontract installation services to Andrew Corporation.
Antennas for Communications manufactures satellite and terrestrial antennas, radomes, microwave and waveguide components, Tallguide ® ultra low loss waveguide transmission lines, antenna feeds and custom shelters for the broadcast, communications, satellite, cable, radar, weather and government industry worldwide.
/CONTACT: Dr. Ron S. Posner of Antenna for Communications, 352-687-4121.

A complete Internet WWW AFC site index may be found in Antennas for Communications (AFC) Home Page Document Summary List. Additional press announcements may be found in the press release section of the site index.
Top of Page   Return to AFC Home Page


Antennas for Communications
2499 SW 60th Ave, Ocala, FL 34474
Telephone (352)687-4121 Fax (352)687-1203 E-mail sales@afcsat.com

Tallguide is a Registered Trademark of Antennas for Communications
Copyright © 2000 Antennas for Communications