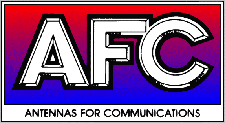 Antennas for Communications
www.afcsat.com

Welcome to the Antennas for Communications (AFC) Home Page
AFC manufactures, markets and sells worldwide satellite dish antennas, conical horn antennas, radomes, antenna feeds, microwave and waveguide components, ultra low transmission loss waveguide called Tallguide ®, and custom shelters. Company and product information is available within AFC's Company Profile. Announcements on AFC's major military and commercial contracts, projects and awards are found in the Press Releases section. Product, information and contact link buttons appear on the left hand side of the page. To find specific product, company and technical information, a complete AFC Internet web site index may be found in Antennas for Communications (AFC) Home Page Document Summary List. To easily leaf through a selection of AFC's WWW pages, try the Page Browser at bottom of each page.

AFC's customers serve the satellite, broadcast, communications, radar, weather and cable industry, defense, government, and government agencies worldwide. For AFC's Product Catalog, email catalog@afcsat.com or request an AFC's Catalog now. For sales inquires or for general information, email AFC's departments sales@afcsat.com, info@afcsat.com or write or telephone AFC directly. Customer or technical support may reached at support@afcsat.com.

The Boss's Corner

| | |
| --- | --- |
| | |
| Medi | Alli |

The boss's daughters are Allison, age 19, and Meredith, age 17. Allison's ambition is to become a Broadway Star. She has appeared in The Universal Language, The Crucible, A Little Night Music, Once on This Island, The Little Princess, Medea, Snoopy, Man of La Mancha, Nunsence II, Sound of Music, Broadway 96, Oliver, The Music Man, Evita, Fiddler on the Roof and The King and I. At Florida's regional and state Thespian Competition, Allison won, along with Nick Barns, the "Best of the Best" and "Critic's Choice" awards for her duet musical performance Sue Me from Guys and Dolls. She has also won the Golden Apple Award for her role in Nunsence II. Achieving her International Baccalaureate (IB) diploma and awarded for outstanding academic achievement, Allison was the 2001 class Valedictorian for Vanguard High School. Allison learned that she was accepted early decision at Brown University. She was also accepted to Wesley College and Barnard College at Columbia University. Allison is now a freshman at Brown University in the class 2005. Her college audition vocal "Meadow Lark" from the Broadway Musical, "The Baker's Wife, " may be listened to in MP3 format. Allison is also a member of the Brown University a-cappella singing group, Ursa Minors.

Meredith's artistic talents are painting and creating new music. She has the unusual ability to hear music and pitch and play back the same tune. Meredith is a pianist and also likes acting. She appeared in "Once on This Island" in the role of Little Ti Moune. Meredith is a junior IB student at Vanguard High School. She achieved a perfect score on her Geometry final exam and went on to represent her high school at the state mathematics competition. Meredith is a Student Council member, Historian for the Vanguard High School Players and spends much of her free time as a volunteer for the Humane Society.

The boss's daughters each compose and play their own general midi music. While some of the music is dated by their age (real, real old), the Boss continues to listen to their work. Allison and Meredith's music is recorded with a Yamaha PSR-510 keyboard using MidiSoft's software Studio for Windows.

Alli's vocals:

Alli's originals: By the River, mid 6k, The Music Box, mid 6k; and her favorites: If we Hold on Together, mid 14k (from The Land Before Time), Cannon, mid 16k, Lady Allison, mid 6k, The Theme from Jurassic Park, mid 13k, The Monkey, mid 4k, The Minuet in G, mid 4k, Toccatina, mid 15k, Linus and Lucy, mid 11k and Colors of the Wind, mid 27k.

Meredith's originals: Baby Loggerhead Turtle. mid 4k, Ocean Island, mid 1k, Moon Light, mid 1k, The Little Bluebird, mid 3k and Spring Showers, mid 2k.

Allison's, Meredith's and


The boss's son, Jonathan, completed his graduate work at the University of California at Irvine (UCI). In June 2001, he was awarded a Ph.D. in Engineering, specializing in Mechanical and Aerospace Engineering. Jonathan's research work on Laser, Flames and Aerosols may be found on his personal home page. As an undergraduate, Jonathan was an All-American sailor for the UCI Sailing Team. He was awarded a full fellowship to continue with his graduate studies and spent a year doing research and studying at the Von Karman Institute Brussels, Belgium. Jonathan is now Head Coach for the UCI Sailing Team.

The boss's eldest son, Donny, is a Acupuncturist licensed to practice in California and most of the United States. Donny is an expert with Herbal remedies and has considerable expertise with chronic illness. Donny has become a successful entrepreneur having established several companies. One of his companies, Biotrek, may be found on the Internet.

For comments on The Boss's Corner, direct them to the CEO at rposner@afcsat.com

Other WWW Sites

For other WWW sites with products, applications or research in areas similar to AFC, see RF Globalnet, PanAmSat, Microwave Journal, Raytheon Polar Services, Haystack Observatory Home Page, The ElectroScience Laboratory Home Page, Antennas and Radomes at Ohio State, Antenna Assembling in Space and Space Robotics, Electromagnetic Home Page, Antenna Electromagnetic Research Group, Synergetics Home Page, IEEE Home Page, MTT Society Home Page, AP Society Home Page, Intelsat Home Page, Eutelsat, Fox Broadcasting Home Page, PBS Home Page, CBS Television Home Page, United Paramount Network, BBC Home Page.

Comments on AFC's Home Page or other web pages, may be directed to
AFC's sales department at sales@afcsat.com

Antennas for Communications
2499 SW 60th Ave, Ocala, FL 34474
Telephone (352) 687-4121 Fax (352) 687-1203 E-mail sales@afcsat.com

Tallguide is a Registered Trademark of Antennas for Communications
Copyright © 1996, 1997, 1998, 1999, 2000, 2001, 2002, 2003 Antennas for Communications